Marina Postir Designer & Artist - Ceramics, Paintings and Crafts in Dromineer Tipperary
Neddys Cottage Dromineer, Nenagh Tipperary, Ireland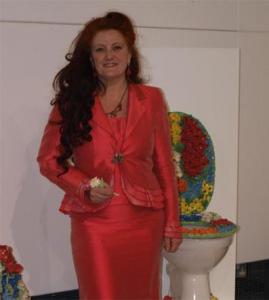 My name is Marina Postir and I am a Designer & Artist. My shop, 'Marina Ceramics',  is located in Neddys Cottage in Dromineer outside of Nenagh, Co. Tipperary. In my shop I  create and sell a wide variety of ceramic items, including commissioned items. Each designer piece is individual and unique, it is guaranteed that you will never see your piece anywhere else.

I make personalised items, each customer may have their own concepts, and I work with them to create a beautiful unique piece that suits their special occasion or works with their surroundings.

My work is inspired by nature and its organic forms. I draw my creativity from the endless variety of designs found in nature. Colour is very important to me, inducing feelings of happiness and warmth like the sunshine at spring after a cold winter.

My Motto - Gardens can have the special quality of lifting our mood. We can simply enjoy the peaceful atmosphere of these delightful natural places awash with life and colour.

Beginning with the premise that there is enough darkness in the world, I endeavour to bring some cheerfulness by placing my colourful floral arrangements, in otherwise unattractive familiar places,  and giving these areas a new significance.

Ceramics

Firing at 1155 and 1260, higher firing is for outside, 1155 for finer interior work with higher quality colours. Clay -stoneware, high fired clay. 

Porcelain

High fired clay with finer with a white colour. Coloured items are made from a homemade mix of colour for different media.

Paintings

Paintings on the lake from Nenagh to Mountshannon and all the way to Carrore in Connemara (Galway hooker). Series from Italy, warm and sunny colours. Irish Dolmens - Burren celtic theme. Robin and winter birds. 

Paintings are acrylic on canvass and also some on Fat over lean which refers to the principle in oil painting of applying paint with a higher oil to pigment ratio ('fat') over paint with a lower oil to pigment ratio ('lean') to ensure a stable paint film, since it is believed that the paint with the higher oil content remains more flexible.

Costumes - Cosplay 

I design and create costumes based on customers requirements. For example I can work from photographs or descriptions and create a realistic version of the item. Some examples of costumes are as follows:

Medieval garbs. 
Evening gown
Cosplay

To get your costume designed you can send in a photograph or drawing or the title (e.g. Jack Sparrow) of your chosen design and your measurements and I will create your special outfit.

Marina Postir Designer & Artist - Ceramics, Paintings and Crafts in Dromineer Tipperary

Neddys Cottage Dromineer,Nenagh Tipperary,

Driving Directions

My name is Marina Postir and graduated with a B.A. (hons) in Ceramics in Limerick School of Art & Design in 2015. I was awarded with the Ceramics Ireland/Scarva Pottery Supplies Travel Bursary, which gave me the opportunity to travel to India for a Jewelry class with a local Goldsmith. The time I spend in India gave me the chance to visit Indian Potters. I got to explore their work methods and view their art pieces. This in turn, further influenced my interest to combine ceramics and silver to create beautiful Jewelry. 

My Ceramic Art has a strong botanical theme and is an explosion of colour and movement taking inspiration from all aspects of the natural world.