Fixed Plumbing & Appliance Repair Dungarvan Co. waterford
087 1367299

Peter Moynihan
Dungarvan Co Waterford, Ireland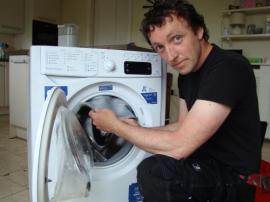 Welcome to Fixed Plumbing and Appliance Repair. Fixed is a company owned and run by Dungarvan native Peter Moynihan. We carry out all plumbing and heating repairs as well as domestic appliance repair.We cover all of County Waterford and surrounding counties. Some of the repairs we offer include

Washing Machine repairs
Dishwasher repairs
Tumble Dryer repairs
Cooker repairs
Oven repairs
Shower repairs
Boiler Servicing

There is no call out charge for appliances so you don't pay a penny until the fault is successfully diagnosed and options for repair made available to you. 

We cover all aspects of plumbing work from a simple dripping tap to updating and improving existing heating systems. This is the time of year to have your boiler serviced. For maximum efficiency boilers should be serviced yearly.

Dryer Maintenance

Fixed Plumbing and Appliance Repair are always on hand to repair your domestic appliances in Co. Waterford, however we also like to give you the best advice to keep your appliances in good shape generally.

It is important to keep your dryer maintained on a regular basis. The build-up of lint inside the casing of the machine can be a fire hazard.

Dryers should be cleared of this annually by a competent technician. The condensate unit in condenser dryers should be washed with warm water regularly to maintain the efficiency of the appliance. 

Washing Machine Maintenance

The use of an anti- lime scale product can add greatly to the life of your washing machine, particularly in areas of hard water where calcium deposits can ruin heating elements.

If you are in doubt about the water in your area just look into your kettle. Calcium deposits in the water will be clearly seen on any element.

Overloading your washing machine is the main cause for bearings to need replacing. On some brands the only option for repair is to replace the full drum.

A common cause of a washing machine not emptying properly can be as simple as a blocked filter, which is usually found on the front the appliance.  

Dishwasher Maintenance

It is worth checking the spray arms of your dishwasher intermittently to make sure that all jets are clear of blockages. A common cause of dishes not washing properly can be prevented by doing so. Putting a lemon cut in half into your dishwasher on a short cycle will freshen it as well as killing bacteria .This should be done in an empty dishwasher.

Shower Maintenance

Showers as with many appliances with basic motors can often stop working because of the motor brushes wearing down. They can be easily replaced at a fraction of the cost of a new shower. Only qualified technicians should attempt to carry out such work. Peter has attended training and fault finding with Triton showers in the U.K.

Fixed Plumbing & Appliance Repair Dungarvan Co. waterford

Dungarvan Co Waterford,

Driving Directions

Fixed Plumbing and Appliance Repair is owned and run by Dungarvan native Peter Moynihan. Peter is a fully qualified plumber and has a fetac level six qualification in domestic appliance repair and servicing.He has also completed installer training and fault finding with Triton in the U.K. All work is guaranteed and carried out to a very high standard.