Doyle's Car Dismantlers - Car Van and Truck Dismantlers and second hand spare parts CASH PAID FOR CARS Tipperary Area
East Noan, Ballinure, Cashel, Co Tipperary, Ireland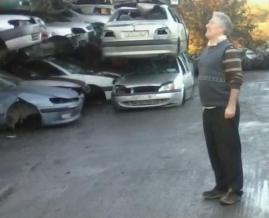 You're very welcome to Doyles Car Dismantlers based in Balinure, Thurles Co Tipperary.  Your number one scrap yard for car, van and truck parts & spares throughout Munster.

We are a fully licensed Service to take in end of life vehicles and in doing so we provide a large quantity of spare parts including commercial.

You can be sure that you will get a professional friendly service from us at all times. So give us a call for whatever service you may need.  We are certain you won't be disappointed - We are Located between Killenaule, Cashel & Thurles and a ten minute drive from the Horse & Jockey.

Call Michael now on 087 267 6867 or alternatively call to the breakers yard in Balinure. 

VEHICLE COLLECTION

We pay cash for End of Life Vehicles - ELV's.  It's simple We will collect your car and pay you cash for it.

PREVENT FUTURE RISK - We will take away your vehicle in a professional safe manner.  Take it back to our authorized Treatment Facility in Balinure.  There we make sure your vehicle is disposed of properly. Environmental regulations are all ways fully adhered to. Be assured you will not receive parking or speeding tickets.  All car owners are issued with a certificate of destruction.

PREVENT POLLUTION - All vehicles contain hazardous materials and parts such as: Oil, Petrol, Diesel, Coolant, Batteries, Catalytic converters, Brake & Clutch fluid,  metals that rust, Glass etc all of which must be disposed safely and properly.

What to do:

If you have an End of Life Vehicle here is what you do - Don't leave it like an eyesore outside your home or parked up in a field. 

Ring Doyles Car Dismantlers 087 267 6867
Explain your location
Have your vehicle Reg Certificate with you if possible... and that's it let us do the rest. Basicly we pay you to take away your end of life vehicle.

Doyles Car Dismantlers - 087 2676867

We break all makes & models of cars, jeeps and commercials. Parts sold on site here in Balinure.  We can also dispose of your unwanted/crashed or End of Life Vehicle in an environmentally friendly and safe manor.  We can arrange to collect your unwanted vehicle. We are fully regulated with all modern pick up trucks.  

End of life cars & parts at Doyles car Dismantlers:

For example:

Renault Kangoo - Laguna etc
Toyota Yaris - Corolla - Corina - Avensis etc
Nissan Micra - Almera etc
VW - Golf - Passet etc

Doyles Car Dismantlers has a full range of various other makes & models with spare parts ready to go.

Call now on 087 267 6867

Doyle's Car Dismantlers - Car Van and Truck Dismantlers and second hand spare parts CASH PAID FOR CARS Tipperary Area

East Noan, Ballinure, Cashel,Co Tipperary,

Driving Directions

Doyles Car Dismantlers Balinure is a family run business which was established by Michael Doyle amassing 20 years of quality customer service and experience. 

Michael prides himself on the basis of his work ethic, professional standards at all times and a environmental friendly attitude. You will be assured of reliability, good advice, courtesy and honesty.

Doyles Car Dismantlers holds no restriction on travel and offers you a pick up service for all vehicles with a vast supply of second hand parts at competitive pricing.

All vehicles deemed unfit for the road will be disposed of in a environmentally friendly procedure.

"We pay cash for cars"